Clean SPF: Your Summer BFF
A Clean Lineup of SPF We Can't Wait to Layer On
Remember the days of baby oil and tanning sprays? That seems like decades ago. From pigmentation and dark spots to fine lines and wrinkles, the sun doesn't always give us the GlowUp we're looking for. SPF is a no-brainer ingredient for skincare (and we are here for it!), but we especially need to pay closer attention to cleaner ingredients and what kind of clean sunscreen is best for our everyday needs. 
Now, don't get it twisted, we LOVE summer. It's definitely our favorite season and after the year we've had, a little fun in the sun never hurt nobody—just make sure you're protected! Because healthy skin is sexy skin, and we want to keep ours in tip-top shape from now until we're as old as the lady from the Titanic!  
We know you're busy making your summer plans, so we did the homework for you and collected a lineup of our top 5 clean SPF's for staying healthy, looking hot, and feeling fine all season long.
#1: No Goop About It!
With its invisible, weightless, and scentless persona this SPF 40 goes undercover as a protectant shield—even under makeup! Made for all skin types, the oil-free Supergoop! Unseen Sunscreen is packed with nourishing ingredients, so you stay safe against the sun, while reaping all the benefits of frankincense and meadowfoam seed. Your skin will thank you over and over, and over again—we promise! 
Supergoop! Unseen Sunscreen SPF 40 - $34; available at Supergoop.com
#2: Invisible Sun Power
In the mood to multi-task? Say "hello" to Fenty Vizor Invisible Moisturizer Broad Spectrum SPF 30 Sunscreen—a light-as-air, oil-free moisturizer that lays down invisible on all skin tones and types, making it a real made-for-all formula. 
This all-in-one wonder boosts and brightens the skin, reduces the look of dark spots, and conceals the appearance of pores, all while providing skin with all-day sun protection. Plus, the sleek packaging and fresh desert melon scent will make it easier than ever to keep reaching for more (great for starting new, healthy skin habits!).
Fenty Vizor Invisible Moisturizer SPF 30 - $35; available at FentyBeauty.com
#3: Grab Your Sunvisor!
Get an instant glowup with Saie Sunvisor Sunscreen. At the start of each day, a small droplet acts as your serum, oil, moisturizer, and sunscreen all at once—so, if you're not a morning person (ahem…guilty as charged!) this formula was made for you. 
Instead of the sticky, chalky-white laydown most SPFs usually have, this 100% clean formula leaves skin dewy and silky while fighting off harmful UV rays simultaneously. It's the skincare step you need in your routine and perhaps the only one you'll be packing this summer!
Saie Sunvisor Sunscreen - $34; available at SaieHello.com
#4: It's Coola to Stay Protected
As the first-ever "Farm-to-Face®" organic sunscreen, Coola Classic Face Sunscreen hits every mark whether you're steering clear of harmful chemicals or just looking for a good 'ol classic to keep you safe from the sun. 
With a powerful SPF 50 sun-protectant and a light, non-greasy texture it's the perfect beach buddy to tote around all summer and blends in seamlessly on all skin types and tones. We'd love to talk this baby up all day, but there's nothing fancy about it—and we like it that way.
Coola Classic Face Sunscreen - $32; available at Sephora.com
 #5: Put Your Guards Up
Our latest skincare obsession is the new Versed skincare brand at Target—a mass brand with majorly luxe quality. Versed Guards Up Daily Mineral Sunscreen not only looks cool, but lays down quickly and easily, without white chalkiness or tint for easy blendability. 
The clean, non-nano zinc oxide formula makes it extra safe to use all over your face and bod. Plus, the sustainable packaging is made with 79% post-consumer recycled plastic and FSC certified paper—so, you're taking care of your skin and the planet all at once.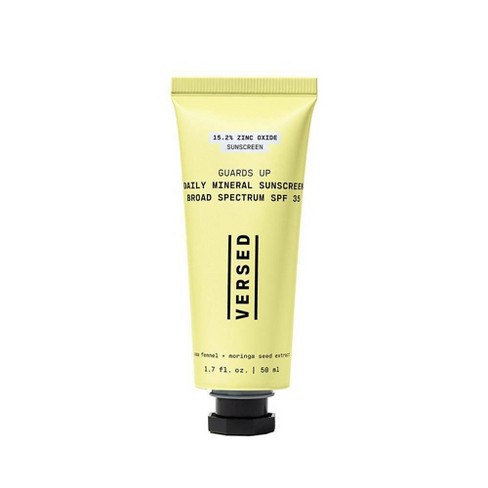 Versed Guards Up Daily Mineral Sunscreen - $21.99; available at Target.com
Now, get out there and have some fun and stay protected from the sun!